When a managed fund that has overseas investments, such as a global shares fund, is, investors are exposed to fluctuations in the Australian dollar.
This can be a good thing if our dollar falls relative to the currency in the country where the investments are held.
For example, if you were invested in an unhedged US share fund and the value of the Australian dollar decreased relative to the US dollar, then the value of your portfolio would increase. This is because you would receive more for your investment if you converted it back into Australian dollars.
Of course it can also work the other way around.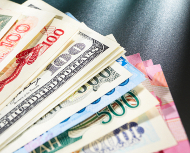 As the Australian dollar increases in value, the value of an unhedged overseas portfolio would decrease when converted back into Australian dollars.
This is can result in unhedged global share funds delivering low returns even when the underlying markets have performed quite strongly.
When an overseas portfolio is fully hedged, the investment manager is using strategies to offset the impact of currency fluctuations.
The objective is to ensure the only factor influencing the return from the portfolio is the income and capital gains (or losses) generated by the underlying investments not currency movements as well.
This means with a fully hedged portfolio, you are protected from the adverse impact of a rising Australian dollar. But equally, you dont get to benefit from situations where the Australian dollar is falling.
Over time the Australian dollar will both rise and fall relative to overseas currencies. Holding some hedged and unhedged overseas investments can therefore provide some additional diversification.
If you have a strong view on the way the Australian dollar is heading, you could favour one approach over the other. But even professional economists and currency experts get their forecasts wrong as much as they get them right.
So trying to improve your returns by making currency decisions can be a costly and time consuming exercise that doesnt necessarily yield a net benefit.
Another issue to consider is that, over longer time periods (five years or more), there has been little difference between the performance of hedged and unhedged global portfolios.
This is because while one approach may work better than the other over the short-term, these temporary periods of out-performance tend to cancel each other out over time.
A much more important issue is how much of your portfolio should be in overseas assets not what to do about short-term currency movements. Talk to us if youd like to discuss how much of your portfolio is invested overseas or about hedged versus unhedged investments.
Remember to reservethe afternoon of 14 October 2011, for our annual client briefing, once again to be held at Royal South Yarra Lawn Tennis Club. Of course, this years conference promises to be our best ever with brilliant guest speakers and wonderful food – not to mention great company!
Julian Battistella, Michael Jeffs and Battistella Financial Services Pty Ltd are Authorised Representatives of GWM Adviser Services Limited ABN 96 002 071 749, trading as Garvan Financial Planning an Australian Financial Services Licensee, Registered office at 105 153 Miller St North Sydney NSW 2060 and a member of the National Australia group of companies.
This advice may not be suitable to you because it contains general advice that has not been tailored to your personal circumstances. Please seek personal financial and tax and/or legal advice prior to acting on this information. The material contained in this newsletter is based on information received in good faith from sources within the market, and on our understanding of legislation and Government press releases at the date of publication, which are believed to be reliable and accurate. Opinions constitute our judgement at the time of issue and are subject to change. Neither, the Licensee or any of the National Australia group of companies, nor their employees or directors give any warranty of accuracy, nor accept any responsibility for errors or omissions in this email.