When the SEC examines your private equity firm, what will they find? Many private equity firms are at risk…
$1495.00Guide to Private Equity Regulatory Compliance (Print)
When the SEC examines your private equity firm, what will they find? Many private equity firms are at risk…/p>
$1295.00Guide to Private Equity Regulatory Compliance (Online)
$1995.00Guide to Private Equity Regulatory Compliance (Online + Print)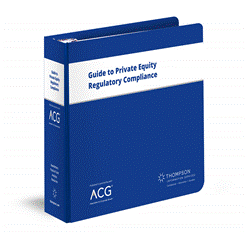 When the SEC examines your private equity firm, what will they find? Many private equity firms are at risk of SEC enforcement actions because they overlookor misinterpretrecent rule changes that dramatically affect the ability to raise capital, interact with investors and meet all-new reporting and disclosure requirements. Thompsons newGuide to Private Equity Regulatory Compliance,published in partnership with the Association for Corporate Growth, lays out the roadmap to help ensure your fund doesnt run afoul of federal laws. Ultimately, fund managers and compliance officers are responsible for understanding and complying with these many rules, and the penalties for violations can be significant.
The new Guide to Private Equity Regulatory Compliance covers a broad range of regulatory issues private equity firms like yours must now contend with, including:
Order today and put this brand-new comprehensiveGuide, written by industry experts, to work for you. Get help navigating these evolving rules and ensure you and your firm are prepared when the SEC knocks at your door!
The information-packedGuide to Private Equity Regulatory Compliance, written by industry experts, covers a broad range of critical issues for private equity firms including:
suggested best practices on topics such as compliance policies and procedures, AML/KYC, cybersecurity, valuations, state and local pay-to-pay regulations, and use of expert networks
recent SEC speeches on the private equity industry and enforcement actions involving private equity firms
current hot-button items, such as co-investments, fees and expenses, use of operating partners and SEC examinations
the investment advisers fiduciary duty to its private fund clients
the Small Business Administrations popular Small Business Investment Company (SBIC) program
advertising restrictions under the Advisers Act
relevant federal statutes for private equity firms, including the Advisers Act, Investment Company Act, Securities Act, Securities Exchange Act, FCPA and ERISA
Based on the delivery method you choose, your annual subscription includes print and/or digital updates, news, analysis, training tools, forms and more at no additional charge for the 12-month subscription period. If you have any questions about your subscription or would like information about bulk pricing, please contact Client Services at or by .

Scott Gluck is an attorney at Duane Morris LLP, where he practices in the area of corporate law, focusing on the regulatory, compliance and formation activities of private funds, particularly private equity firms. He advises firms on how to comply with the broad range of regulatory challenges they face, including those arising under the Investment Advisers Act and other federal statutes. Mr. Glucks practice includes the formation of private funds, implementation of their ongoing compliance programs and corporate transactions. He has significant experience with federal, state and local pay-to-play rules regulating political involvement and fundraising activities by investment advisers. Mr. Gluck serves as outside regulatory counsel for the Association for Corporate Growth (ACG), a leading trade association for the middle-market. He advises ACGs Private Equity Regulatory Task Force (PERT), which interacts with Congress, the Securities and Exchange Commission and other federal agencies on behalf of the middle-market private equity industry. Mr. Gluck is a 1996 graduate of Columbia University School of Law. He also holds an M.B.A. from the University of Southern California and a B.A. from the University of California, Berkeley.

Shane Hansen is a partner and co-chairs the Funds and Investment Services Practice in the law firm of Warner Norcross & Judd LLP. His law practice concentrates in the area of financial services regulation, primarily involving federal and state securities and banking laws and related rules. He advises banks, broker-dealers, M&A advisors and business brokers, investment advisers, investment managers, private fund advisers, family offices, financial planners, and registered representatives about a wide range of business, corporate, contract, compliance, and regulatory topics, and frequently speaks on compliance topics. He has substantial experience involving formations, mergers, acquisitions, and sales of financial services firms and practices. Mr. Hansen graduated with honors from the University of Michigan Law School in 1982. He graduated with high honors from Albion College in 1979.

Christopher A. Rossi is a partner the Corporate and Securities Practice Group of Pepper Hamilton LLP and is the co-leader of the firms SBIC practice and co-chair of the firms Funds Services Group. Mr. Rossis practice concentrates in private equity fund formation, operations and management (including for SBICs), general partner/limited partner dealings, investment fund principal compensation and planning, private fund adviser operations and regulatory compliance, and corporate governance matters. Mr. Rossi also represents private funds in their investment activities. Mr. Rossi graduated, with distinction, from the Pennsylvania State University in 1989 with a BS in business administration and a concentration in finance and economics. He received his law degree, magna cum laude, in 1992 from American Universitys Washington College of Law.
Adrienne Ann Scerbak is of counsel in the Employee Benefits and Executive Compensation Practice in the New York office of Winston & Strawn LLP. Ms. Scerbak focuses her practice in the Title I area of ERISA, including the newly adopted final fiduciary regulation. She advises private equity, real estate, and hedge funds as well as other financial institutions and broker dealers on the prohibited transaction and fiduciary responsibility rules applicable to employee benefit plan investors. She also advises plans and their fiduciaries with respect to investments and related matters. Ms. Scerbak has worked in counseling clients on executive compensation matters, bonus, stock option, and non-qualified deferred compensation plans, negotiating related agreements, and on benefits and compensation matters that arise in the context of both public and private mergers and acquisitions and financial reorganizations. Ms. Scerbak is a 1993 graduate of Rutgers Law School Newark.

Mauro M. Wolfe practices in the area of litigation, with a focus on domestic and international white-collar matters before the U.S. DOJ, the U.S. SEC, the N.Y. Department of Financial Services, various federal agencies, various state Attorneys General and local prosecutors, with an emphasis on the finance industry; the Foreign Corrupt Practices Act compliance and investigations; complex civil and administrative litigation; and internal corporate investigations. Mr. Wolfe was named to the Legal Elite 2015 – Best for International White-Collar Criminal Defense – New York by Corporate America magazine and has been a member of the highly selective and prestigious New York Council of Defense Lawyers, an organization comprising the most well-regarded white collar practitioners in New York, since 2009. Mr. Wolfe is a 1996 graduate of Temple University Beasley School of Law and a graduate of Indiana University of Pennsylvania.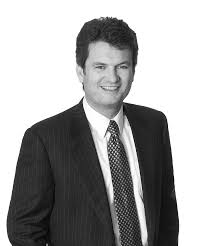 Basil Godellas is a partner in Winston & Strawn LLPs Corporate Department and serves as co-chair of the firms Financial Services Practice. Mr. Godellas concentrates his practice on representing companies in the asset management industry with respect to a wide variety of regulatory and transactional matters.
Mr. Godellas regularly counsels clients in connection with structuring and forming private investment funds, including hedge funds, private equity funds, commodity pools, commingled funds, group trusts and collective investment trusts, new product development, securities offerings and related filing obligations, investment management compliance matters, acquisitions, divestitures, and domestic and cross-border reorganizations.
Mr. Godellas has structured and documented numerous onshore and offshore funds, including master feeder funds, multi-class funds, series funds, and segregated portfolio companies. Mr. Godellas has represented an international investment bank in connection with its acquisition of a futures commission merchant, a large investment manager in connection with its reorganization and the spin-off of its alternative investments business division, and the private banking division of a European bank in connection with its acquisition of a registered U.S. investment adviser.
Mr. Godellas received a B.A. in Economics from Lawrence University in 1988, where he was awarded the William E. McConagha Memorial Prize for exhibiting excellence in the study of economics. He received a J.D., cum laude, from Loyola University Chicago School of Law in 1991, where he was a member of the Loyola University of Chicago Law Journal.